KinokoFry #117 – A Present For You
Yeah, I reckon I can milk another 100 comics out of this guy.
ANNOUNCEMENT TIME!
My brand new booklet, "For You" is finally available and it is fine.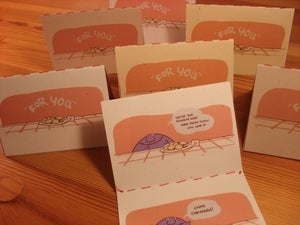 This is, in fact, my first comic booklet and it is a beauty. All on high quality 100% recycled paper, it's 16 pages of the original For You comic, and each one is hand-stitched! It is a limited edition of 100.
I think this is the perfect gift for someone. But maybe that someone is yourself!
I'm also going to do a call-out on behalf of Craig Veness, the very nice data retrieval guy trying to fix my broken HDD with all of my comic files on it. He needs a very specific drive in order to try and fix it. Without it, all of my comics before a few months ago will be lost forever. We're looking for:
From the sticker on the top of the drive: Samsung HD501LJ/JP1 Rev. A; SEC-HD501LJ(B); 2007.9; P/N: 40141XXXXXXXXX T166S.
If someone has a drive matching those numbers, we may be able to use it! Send an email to info@dataretriever.com.au with 60413 Donor Drive in the subject and either a clear photo of the drive label or a complete listing of all info from the drive's sticker. If your drive does indeed match and we can use it (it needs to be 100% healthy – we can confirm this after receiving it), we'll swap you a brand new 1TB internal hard drive – free upgrade for your trouble! All you have to do is post it in and then once we confirm it is suitable, we'll mail you your new, bigger hard drive. Thanks for your help.
Thanks, guys! And on my part, if anyone is able to produce the drive we need, I'll be giving you a free copy of the first KinokoFry book that I was able to make because of your help, along with a set of KinokoFry prints.
Thanks, guys! I have my fingers crossed.

- Rebecca Clements