KinokoFry #100 – One Hundred
You might want to go back a strip to see how this relates. This really happens.
Well. Guys.
100!
It has been the best. You are the best. It will of course only get better.
In celebration, everything in the store? 20% off!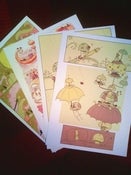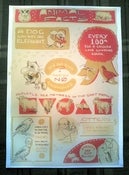 I am also -finally- selling this original painting, Beepot.
I'm very proud of this piece. I've had it a long time and I have been holding on tight to it. It is big and just lovely. But if you have a nice home for it… it likes to be read to at night.
I'll leave it there for now. Thanks for reading KinokoFry so far! Especially those of you who have supported me for a long time, possibly since the beginning (!), or with donations and such. You know it's because of both your financial support and the other, more emotional kind of support that I am able to sit here creating these things. Seriously. You guys. You know it's true.
I really appreciate it. I have the best readers. All the other cartoonists are jealous.
- Rebecca Clements