Guest Strip – Pat Grant
Man. Oh. Man. It's time for guest comics! And not just ANY old run-of-the-mill guest comics you might get on ANY old run-of-the-mill webcomic. These are all the best Australia has to offer. An exclusive bunch picked fresh from my most flavoursome crop. Put them in your pipe and smoke them. Breathe them in. Hide them in your incense box (but show them to your friends).
Starting us off is a comic that had me gasping in awe by the one, the only, Pat Grant.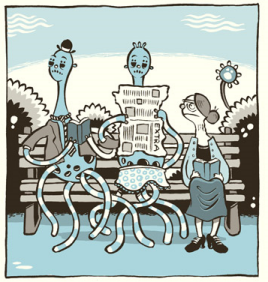 Pat is straight up one of the most talented people you could ever hope to meet, and he's a fast-growing force in the world. From the first moment I saw Pat's art, I was in love, and it is a fact that you will be too. Pat does what I dream of doing; creating a perfect mix of honest observation with a fantastic and other-worldly sense of fun.
Pat writes the world he knows in the truest way he can. Not a line is out of place or wasted, every inch made beautiful. Stacking silhouetted cities, bubbly plants, chimneys and teapots all over the joint and characters that will twist, break and hug your heart.
Pat recently began putting his latest comic, Blue, up and it is, with no doubt in my mind, my favourite comic right now. Pat's work gives me the unique thrill of seeing a true master at work. I know you will love this tale too.
Thankyou, Pat!
- Rebecca Clements