Guest Strip – Arran McKenna
After a long, hard days drawing and stuff, it warms my cockles (I just found out I have cockles :( It's hereditary) to know it's still Guest Time and that today I have a comic from my buddy-ol-pal, Azza. Though you may call him Arran McKenna (unless he tells you otherwise).
I'm sure a lot of you have been beating your own skulls in with your tight, raging fists wondering where the mushroom comics were (although they have featured up til now, the comics have still been centred around yours truly). Well, Arran is here to indulge you! Also, you like all kinds of cute, strange little characters? Arran will indulge that too! And how about animation? How about lots of experimenting with different mediums and styles? How about turtle power? Arran is in an indulging mood today!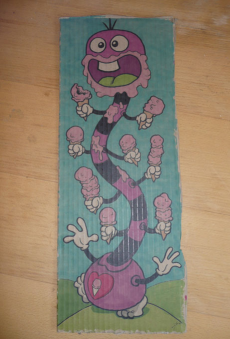 Arran's just started what I'm sure is going to be just the kind of awesome and creative kind of comic experiment that you can expect from those with backgrounds in animation, "Oh Dear…" so it's a good time to stick that in your RSS feed and see what he comes up with in the future!
I've refrained this entire post from saying that I am right now dog-sitting Arran's sausage, Norton and AAAAAAAAAAAAAAAAAAAAAAAAAAAAAAAAARGH he's a great pup. I guess I should have taken a photo.
Thanks, Arran!
Don't forget there are new limited edition Pussface Fatsums and Too Much Rice prints available!
Guys, there is one more guest comic to come. Holy damn. It makes me shake in my boots, this one. (The good kind of shaking).
Also, I'll be signing the flood relief comic, Tides of Hope at Supanova in Melbourne next weekend! I'll let you know specific times soon, but please come along and get a copy! It's FULL of amazing comics – including mine – and 100% of profits go to help people affected by the devastating floods in QLD.
- Rebecca Clements