Diary #051 – It Was A Rad Day
We are putting our month at NGV Studio in a box and packing it up today. But it was a great month, and in the spirit of rad times, have this comic. If you'd like to know how clever it is but you don't know Ice Cube's song:
A reminder about my newwwwwwwwwwwwwwww 24-hour comic book!
COME INSIDE MY BODY: A CHOOSE-YOUR-OWN-ADVENTURE!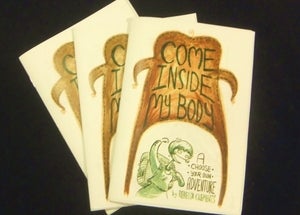 Thanks to everyone who came to visit me and got to see me and all the other artists here working away. I spent a month with the most amazing cartoonists Melbourne has to offer and I want to show these people off to you:
Ben Hutchings
Pat Grant
Mandy Ord
Sarah Howell
Michael Fikaris
Michael Hawkins
Simon Hanselman (No website! Talented freak though).
We learned, we loved, we drew on lots of bits of paper.
- Rebecca Clements