Diary #050 – 24 Hour Comics!
Thaaaaaaat's right. Last Thursday at NGV Studio, we had our huge 24-hour Comic Marathon event and it was a pah-retty damn big success! All day and night, we had hundreds of people come visit us, draw with us, I did a bunch of late-night radio interviews and there were lots of chocolate-covered coffee beans to be had.
Somehow in amongst all that, I did a full-colour painted 24 page comic! Ben, Sarah and I actually POWERED through 24 hours and stayed the next day too because we are comic champions.
Today I can finally show off the completed books! So, presenting:
COME INSIDE MY BODY: A CHOOSE-YOUR-OWN-ADVENTURE!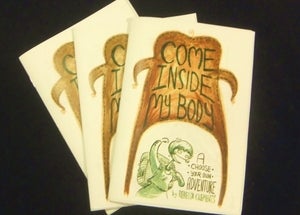 :)
- Rebecca Clements